>2011 Review Video
A fantastic little review of some of our season courtesy of Sam Titchner
>National Final (Rnd 8) - Goodwood Motor Circuit
I think It's fair to say we have had somewhat of a tricky season this year, we've had some highs, with a podium at Dunsfold and a 4th place on our début which extended our own personal record by a further 7miles on significantly less current. We've also had some lows with technical difficulties at Goodwood and Bedford.
For our last race of the season we felt that we just had to go out there and prove what we were capable of as this was the only occasion this season where all of the F24+ teams were in attendance.
We always set out with several targets for any given race. For this particular event we were hoping to improve on our current team lap record of 4mins 12secs, set by Laura in 2009.
I took the wheel of iWhoosh in practice to run a few systems checks but by the end of our first flying lap we had already smashed our lap record of 4mins 12secs with a lap of 3mins 58secs. Which was actually the fastest lap anybody set in practice. Whilst we were all delighted by this we realised it was important to focus on the task in hand.
After getting the car back to the paddock we discovered we had picked up a drawing pin on the outside edge of the tyre which meant that we had to spring in to action and replace both the tyre and inner tube.
This left us with just enough time to get the batteries in and round to the assembly area in anticipation of lining up on the grid.
At 10.30am the flag dropped, I decided it was best to make gentle pull away so as to limit the drain on the batteries and to prevent the drivetrain from being subjected to any unnecessary stress. This saw Zebedee, Brian and KHALE.CC get the advantage in to Madgewick but we were soon able to pull this advantage back. This meant that ahead of us by 50m or so was Fireblade, Driven Motion and R-PodS but this gap seemed to be visually decreasing by the second. We then passed Driven Motion from Jaguar Land Rover, which put us in to a podium position, but iWhoosh didn't really seem all that content with that as it built more speed with each revolution of the wheel.
We overtook R-PodS for second place between St. Mary's and Lavant, and then took Fireblade on the entry to the Lavant straight. For the second time this season, we were in the lead and we hadn't even completed our first lap.
I was filled with an enormous sense of pride as I completed the first lap of the National Final in First place. But with a further 85minutes to go we had a lot of work to do to make sure we stayed in P1.
Our second lap was a blistering 3minutes 43seconds, some 29 seconds faster than we had ever lapped Goodwood, and they stayed below our previous best until a lap before we pitted.
On the 50minute mark we made our pit stop, the team performed faultlessly, replacing the batteries and allowing us back on track within 1 minute 23 seconds.
As I pulled away I was filled with worry, the batteries that had just gone in appeared to be down on power compared to the first set, I decided to ease off the power, as I was told during the pit stop that we had a 1 lap lead over second place would we make it to the end?
We put in more hot laps and pulled out a greater lead until.....
The end of the race.. there will be no "and then disaster struck" or "unfortunately our *insert applicable component name* broke"
We completed the race having covered 55.2miles which is not just a team record, but the furthest any team has travelled in 1.5hours under the current regulations, by 6.7miles and saw us finish 2 laps ahead of R-PodS and 3 laps ahead of the reigning champion.
It was an absolutely incredible day for us and one for which we owe everybody that has been involved in our project a huge thank you, I don't think that when I was first approached to drive a Greenpower car in 2002 for my school because I was short did I ever expect to have a team to call my own, let alone one that was capable of such amazing things.
Please take time to visit our sponsors page as all of these companies have provided some invaluable assistance to us since we set up Horsfall Racing in 2007.
-Luke
>East Anglian Regional Heat - Bedford Autodrome
Just over two hours away from Horsfall HQ, Bedford Autodrome can be considered our local circuit, so we always look forward to a race at Palmersports' fantastic venue.
Today it was Laura's turn behind the wheel for the race, so I headed out in practice for a systems check. On our first lap out the chain came off heading in to the extremely tight first corner. Once we got the car back to the paddock it became quite clear that the motor had twisted on it's footplate. So a quick trip back in to the pits and we were sorted.
Laura Lined up on the back row of the grid and knew she had her work cut out to make it to the front around this circuit, but if anyone is capable of this, it's Laura!
The flag dropped but the car made a slow start, luckily it was deemed a false start and the race began again, but iWhoosh still made a slow start. On about the third lap, the car stopped out on track, once we got it back to the paddock it was clear that the chain had again been thrown off. We temporarily sorted this problem out and the car was back out performing some very competitive laps.
Whilst we knew we were well out of the running for a decent amount of points we decided it best to see how long our batteries would last on the current set up. The answer was, much longer than we anticipated as the car started to slow around the hour mark.
We came home a disapointing 7th but had learnt a huge amount and have come away knowing exactly how to build on the speed we have shown we are capable of.
>Dunsfold Podium
After a difficult début we got straight back to work on the car, stripping it back to basics and replacing our speed controller with a relay and fitting a watt meter to allow the driver to monitor power consumption.
We flew through the new fast track scrutineering process and were clear for practice. Laura used this opportunity to get her first taste of iWhoosh, whilst Luke took Stealth Aero for a quick spin as part of a systems check.
Both cars were running well so we set about getting iWhoosh ready for the start of our second F24+ race of the season.
We lined up at the front of the grid and as the flag dropped iWhoosh and R-PodS screeched in to the first corner but we quickly lost ground as R-PodS took a commanding lead with Fireblade and KHALE.CC joining them. After the first few laps the order at the front settled down and iWhoosh slowly started to take time out of the cars ahead.
iWhoosh continued to climb back up the rankings until it became a wheel to wheel battle for the lead with R-PodS, swapping position at every corner. This battle came to a premature end when we decided to pit.
We had timed the pit stop about a lap or so too early so it was important to be conservative with power, unfortunately a connection on the watt meter had shaken loose and we were left without any form of power monitoring. This meant that although we would hold on to the lead for now, we didn't know whether we would be able to for the remaining 50mins.
So we picked one of the gears out of our range and went for it! Unfortunately a little too much and slowed down sufficiently that we conceded both first and second place to the very deserving Driven Motion and R-PodS.
Whilst you could argue that we missed out on our first win, we don't see it as that. Having only had three days available to fix all of the issues we'd faced at Goodwood, to finish third points and claim six points was a superb result.
>Wet debut for iWhoosh
The date and venue for our new vehicles' début was set, 12th June 2011 at Goodwood Motor Circuit, West Sussex. The only issue was, the weather was not. In the week leading up to the event the forecast was up and down with the final forecast the team saw reading a mere 0.7mm of rain was scheduled to fall between 9am and 12pm.
We didn't view this to be an issue but felt it wise to brace ourselves for the worst.
On the 2.5hr journey to the circuit it started to become clear that this was going to be a challenging day, but we relish a challenge!
We arrived at Goodwood and sailed through a well organised scrutineering session but opted out on practice as by this point there wasn't significant time to both complete any meaningful testing targets as well as prepare the car.
We lined up on the grid in second place and when the flag dropped we accelerated hard and found ourselves in a drag race with KHALE.CC from West Haddon Village, they then held on to the lead for the first 600m or so until RGS Worcester caught up and overtook us both.
We remained in third place for the first few laps until the motor began to scream, this suggests that the RPM has increased and that we're drawing very little power. Unfortunately water had found it's way in to our electronics and caused the automatic shifting to cease from working. We brought the car in to the pits and investigated the problem. Eventually this was sorted but it meant that we lost 20minutes in the process. We headed back out and climbed from 10th to 7th.
With plenty of power left in the first set of batteries we decided to pit late to be certain of having power to spare at the end of the race. The problem was that further electrical problems, this time from a different area, caused the pit stop to be extended by some 10minutes, which cost us a further two laps and potentially two positions.
We were the first team to cross the line after 1.5 hours, but sadly this didn't mean success, just and end to what had been an exciting but also very challenging days racing.
Now with just a single weekend off until the next event at Dunsfold Park, we'll be working hard towards developing our new contender for it's next outing.
Have a look here for some pictures
>iWhoosh leaves workshop for system test
After several months of design, development and manufacture, iWhoosh, has now left the workshop for a brief shakedown to test some of the new systems that have been put in place to try and help move the team further up the field.
Sporting a new blue paint job, this years contender is due to take part in it's first F24+ event at Goodwood Motor Circuit on June 12th 2011.
Can't wait that long? Here's a sneak preview of it after testing.
>Passivent and Garmin join forces with Horsfall Racing
We are pleased to announce that both Passivent and Garmin have become official supporters of Horsfall Racing.
These significant new partnerships will enable us to produce significantly higher quality finished products. We shall then be able to extract some vital performance data to see which areas we need to focus on in order to reach the next level of performance.
For more information on these two companies please visit our sponsors page.
If you feel that you are in a position to offer Horsfall Racing some assistance, in any shape or form contact sponsor@horsfallracing.co.uk
25/5/2011
>Horsfall Racing team up with NuVinci and Passivent
The Corporate Challenge meant a lot to Horsfall Racing this season. It's the start of a new season which for us meant the unveiling of our sixth car. But this one somehow feels special, development began in earnest as soon as the 2011 regulations were released. Since then we've invested countless hours of development along with our new partner, Passivent (www.passivent.com)
They have helped us achieve a new level of engineering excellence that our, somewhat basic, workshop facilities haven't previous allowed us to attain. So regardless of how this vehicle performs we are all extremely proud of this project and in the run up to this event were extremely excited about the prospect of hitting one of the worlds most famous racing circuits.
A new specification battery for 2011 left all teams wondering how they would fare, particularly on a circuit that has not been used by Greenpower cars ever before.
There was an extraordinarly high calibre of entrants on the grid with a number of proven winners present, such as Fireblade from Philip Morant School and College with and Chipping Sodbury School with Rotary Racer, but this didn't put off the Corporate teams which had brought along some impressive new vehicles.
The race started at 1.30pm with everybody making a clean getaway with the exception of Rolls Royce, who had failed to secure a body panel correctly.
The new vehicle, entered as Stealth Aero by Matt Rideout, a veteran driver now in his 5th season racing in Greenpower. The car had only been finally competed just days before the race remaining both unpainted and untried but with some optimism for its performance bearing in mind the design work that had gone into it.
It had a shaky start with the first 3 laps being quite slow and most of the field getting away. After lap 3 it started to quicken and at the end of the first 80 minutes was up to 12th place before the first battery changeover. The second 80 mins was driven by Luke who pulled up into 7th place before the final battery change and Laura taking over.
The excitement really started to build towards of the end of the race as we looked set to beat our previous 4 hour record of 96miles on just 80% of the power we had set the orignal benchmark with. The reduction in power capacity is down to the introduction of a new type of battery which, whilst much safer, has brought our overall capacity down by 20%.
With one lap to go Laura was in 5th place with 101miles but not content with smashing our record she decided to go ahead and just on the last lap managed to overtake the car from Superform Aluminium/RGS Worcester putting us in a superb 4th place.
The car completed a total of 103 miles which we were all delighted with for its first outing and shows real promise for the season.
Once again, we would like to thank everybody involved for their assistance in making this all possible,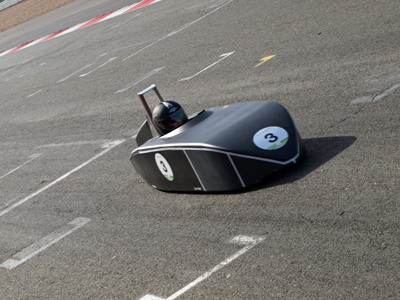 Laura Horsfall On her way to Fourth Place
More pictures available in the Gallery
18/5/2011
>Follow Horsfall Racing On twitter
Horsfall Racing is on twitter and always on the look out for more followers to spread the word about clean energy racing.
So make sure you follow @horsfallracing on twitter
twitter.com/horsfallracing Go on, give us a follow!
10/5/2011